LCM's Editor Anya Sophia Mann explains how deep listening happens through the heart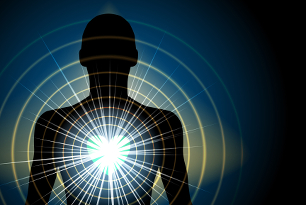 You can become aware of your heart as a beautiful instrument for deep listening. Listening from the heart (with the heart and to the heart), can open up a world of clear connection to another human being. Everything subtle is silently magnified in this heart space with another, allowing connection to reveal hidden truths.
In this core space, which is within all of us, we are unencumbered of all the conditioning and wounding a life can bestow as we live. When we are in our heart we are connected to our core essence and flowing that presence into the world. People can feel it greatly. Your presence precedes you.
No matter what role you find yourself playing, such as family member, Manager, Coach, Doctor, Teacher, Leader etc., when you are coming from deep within your heart you will be heard deep within the other's heart. This is the 'come from' place where we can move mountains, no matter how another presents, whether in sorrow, anger, grief, confusion or dismay (some of the myriad of ways we look to others for support).
Coaching a person or a situation at the dinner table, class room, board room or with a team of individuals, we are all 'best suited' for the role when we are deep within our heart and listening empathically from there. No judgement can co-exist with an open heart, so your listenership is pure white space for the other to paint their world from their palette of experience, for your clean, clear receiving. In this configuration there is an environment for potential transformation to thrive.
How can you be that for another?
In the sacred space of 'Self Love' magic and miracles disguise themselves as acts of generosity, gratitude and healing, from the loving kindness of a listening heart. Being crystal clear in the pure space of 'silent' is how you listen. Now go be heard.
With an open heart,
Anya
Listen to an example
Listen to heart-centered listening in action in this live coaching replay as Anya coaches "Pete" on the subject of communication:
Quantum Alchemy Broadcast #117
If this is your first visit to Quantum Alchemy Live Coaching Broadcasts click "New Visitor" in the window that opens, to create your free account
If you found an error, highlight it and press Shift + Enter or click here to inform us.

Anya Sophia Mann is Founder and Senior Editor of Life Coaching Magazine. She is a Visionary Intuitive Life Coach,Author and Speaker who supports individuals and businesses in doing more of what they love (and came here to do) by creating environments for the conscious evolution of body, mind and soul. She is author of the Amazon international best-seller
"In The Light of A New Day"
.
For details of personal and group coaching, classes, workshops and other events visit her website
AnyaSophiaMann.com

Latest posts by Anya Sophia Mann (see all)